We are excited to announce the addition of two new classes to our line-up for 2018!
Foundations (Wednesdays 8:10-9:00 pm): This class is geared towards those who are brand new to capoeira and students in their first few years of practice. Classes will focus on the foundations of the capoeira game, with a strong focus on proper technique, increasing flexibility and strength, and working the stiffness out of movements to enhance flow and reactions during the game. Students of ANY level are welcome and encouraged to come and perfect their technique. This class is mandatory for all students who are brand new to capoeira, and very strongly recommended for students up to yellow belt.
CapoKids (Fridays 7:00-7:45pm; Age 5+): For children ages 5 and up. No experience necessary. Children develop their strength, flexibility and coordination through play-based exercises designed to teach the basic movements of capoeira. Classes also incorporate musical rhythm and listening.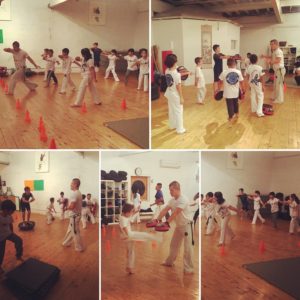 Call 416-537-4167 or write to info@capoeiraschool.ca to inquire or register for either class.